Meet Our Doctors
Dr. Arthur J. Mund, D.D.S.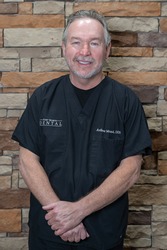 Dr. Arthur J. Mund brings extensive training and over 30 years of cosmetic and implant dentistry experience to the North Texas area. He is respected among dental colleagues for his outstanding dental work and among patients for his compassionate, gentle manner.
Dr. Mund is trained to perform all types of general dentistry, with a special emphasis on his main passions, cosmetic dentistry and implant dentistry. His experience spans the full spectrum of patient needs, from complete reconstruction through smile makeovers, to simple cosmetic fillings. Renowned for his expertise in implant dentistry, many of Dr. Mund's patients are referred by other dentists.
Dr. Mund graduated from the University of Texas School of Dentistry in Houston in 1981 with the school's highest honor, the International College of Dentists Award for Outstanding Clinical Skills. Dr. Mund is also a graduate of the prestigious Misch Implant Institute in Dearborn, Michigan. He participated in the landmark "Advanced Implant and Bone Grafting Techniques" at Lille University in France with only 15 other doctors from around the world.
Dr. Mund is Board Certified by the American Board of Oral Implantology/Implant Dentistry, a Diplomate of the American Society of Osseointegration and the International Congress of Implantologists, the highest level of achievement in these implant organizations. Dr. Mund is also a Fellow of the American Academy of Implant Dentistry, Past President of the North Texas Implant Study Group and active in the American Dental Association. He recently received the GoodFellow Award from the Fort Worth District Dental Society and the Texas Dental Association.
Dr. Mund is a native Texan, having spent the majority of his life in North Texas. Dr. Mund and his wife, Tamela, have three sons.
Terry M. Zang, D.D.S.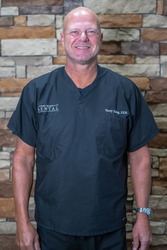 Dr. Zang earned his Bachelor of Arts degree from Drake University. He then attended Baylor College of Dentistry in Dallas, where he received his Doctor of Dental Surgery degree. While attending dental school, Dr. Zang received the American Acadamey of Oral Medicine award and the Texas Academy of General Dentistry award for excellence in clinical skills. He was also on the Dean's Honor List and a member of the prestigious Odontological Honor Society.
Dr. Zang has been practicing dentistry for over 24 years. His practice encompasses all facets of general dentistry, with special emphasis on cosmetic smile makeovers, dental reconstruction, cosmetic dentures and laser dentistry. Continuing education has kept Dr. Zang's practice in the forefront of dental innovation. His committment to continuing education has kept him abreast of advances and new techniques in all phases of dental treatment. Dr. Zang's mission is to provide his patients with gentle, high quality, state of the art dental care.
Dr. Zang has utilized dental lasers since their inception in 1991. In 2007 Dr. Zang was trained and licensed on the PerioLase MVP-7 laser through Millennium Dental Technologies. This is the only laser specifically designed for the LANAP procedure. This procedure has made an amazing breakthrough in the treatment of periodontitis.
Dr. Zang has lived in the Ft. Worth/Arlington area since 1976. Dr. Zang and his wife Susan have been married for 27 years. They have two wonderful children, Austin and Ashley.
Dr. Arthur Mund, Dr. Terry Zang and their staff of well-qualified and friendly assistants will care for your oral hygiene needs. We look forward to establishing a relationship with you for all your preventative and cosmetic dental needs – cosmetic dentistry, veneers, crowns, implants, cleaning and more – we take pride in helping you with any oral care need you may have.
Olena Razo, D.D.S.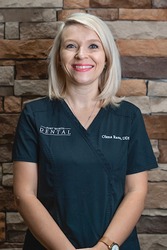 Dr. Olena Razo was born in the Ukraine and moved to Fort Worth when she was 8 years old. She has called Fort Worth home since then and loves living here. She attended University of Texas in Austin, where she received their Bachelors of Arts in Chemistry in 2011. She then went on to earn her Doctor of Dental Surgery degree from University of Texas School of Dentistry Houston in 2015. She is married and has 3 kids: 1 boy and 2 girls. Dr. Razo prides herself on paying attention to detail and high quality work. She loves that she can make her patients feel better quickly especially when they are suffering from a toothache.

Dr. Razo enjoys doing cosmetic dentistry because it helps patients gain their self confidence back. Dr. Razo works a variety of areas in general dentistry and is also certified in Invisalign. Dr. Razo also enjoys traveling and touts herself as a big "Foodie" and is also an animal lover who has several pets.
Dr. James Haley, D.D.S.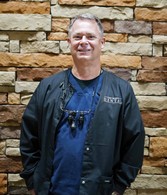 Dr. Haley grew up in Dallas and earned his Bachelor's Degree from The University of Texas in Austin in 1983. He then earned his Doctor of Dental Surgery degree from The Baylor College of Dentistry in 1987. He and his wife have been married since 1989 and they have three children. Most of his career Dr. Haley practiced dentistry in Stephenville, Texas until recently when he and his family made a decision to move to the Fort Worth area. Dr. Haley is proficient in all phases of general dentistry including Cosmetic and Implant Dentistry. He has performed dental implant procedures for several years. Dr. Haley is both a Fellow and a Diplomate of the International Dental Implant Association. These are the highest levels of recognition and achievement in this Implant organization. We are very excited to have Dr. Haley as part of our dental team!